Maxshine Mini Handheld Dryer may be light and compact, but it packs a big punch. Ideal for safely and easily drying every bit of a vehicle, it comes with a handy 20ft/ 6M Cord and a choice of 2 nozzles to suit any job.
Product Specs
1.5HP with a single motor
22000FPM, 90CFM
US 110-120V/10AMP, 1200W
Max Vacuum Degree ≥24 Kpa
Max Airflow  ≥2.4 m³/min
Power Cord 6m(20ft)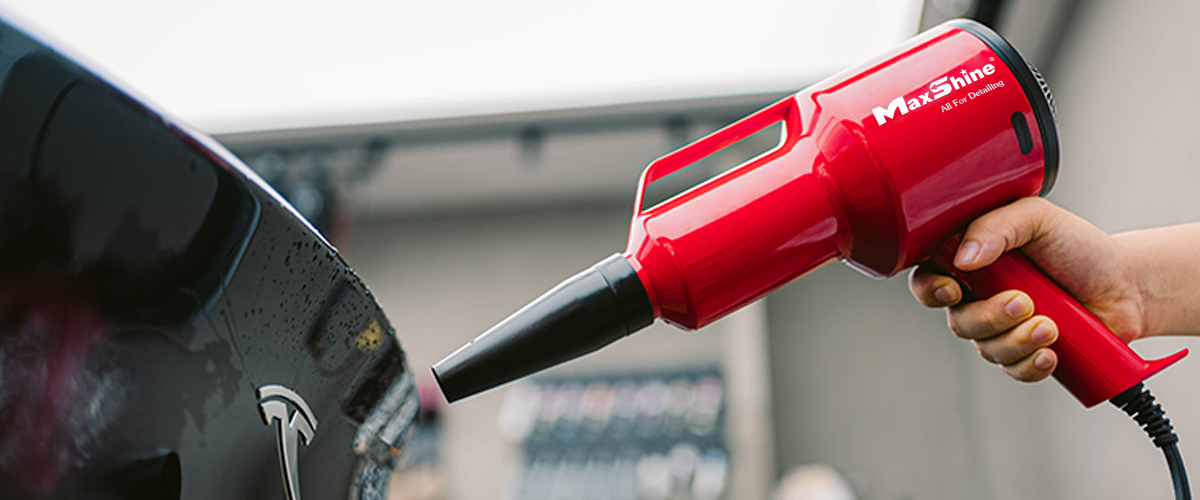 MAXSHINE EVO-S
We wanted something 'handy' for enthusiasts who do not have the need or space for a larger dryer.
So we looked at small motorcycle and car dryers and innovated to produce the EVO-S. Firstly, we needed the air forced through in a straight line to increase the efficiency and performance, and not from the bottom like most others. Then we wanted even more airspeed so we added the most powerful motor possible for a hand-held, but not at the expense of weight, as while it is the most powerful output, it is also the lightest in class.
Do not be fooled by its size. This is one of the smallest and lightest cike and car dryers, but it is also one of the most powerful, offering up to 25% more drying power than some competitors.
With the efficient 1.5HP motor comes an increase the airflow, which also provides faster drying.
The handle provides an ergonomic grip and can be used when the dryer is flipped upside down, for easier reach on lower areas.
The EVO-S is ideal for chasing water out of all the hard to reach places on cars like grilles, bumpers, vents, and wheels. It can be used for bikes, motorcycles, and even small watercraft and it's great for dusting interiors and even electronics and electrical devices.
This innovative Car Dryer is an essential addition to your garage wash and dry set up.
FEATURES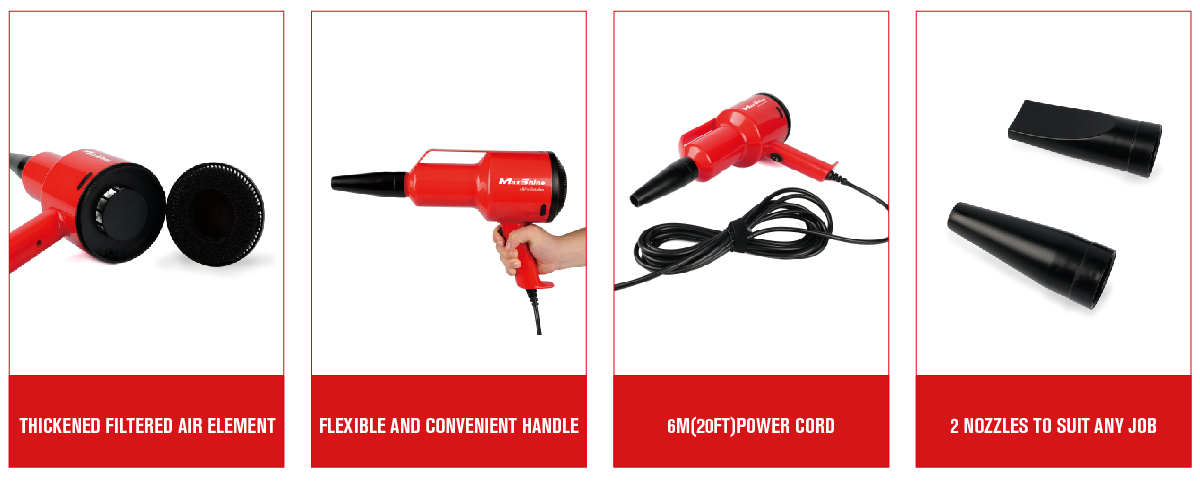 ---
SAFE, TOUCHLESS DRYING
Most swirl marks and scratches happen during the drying process. By using forced, filtered air to dry your car you have zero chance of scratching the finish with a drying towel. Any contact with your car's paint increases the likelihood of scratches. EVO-S offers an easier, more effective, and safer way to achieve a better end results for your vehicle. With a hand held car dryer, novice and professional detailers can reduce the time spent on drying and achieve a more superior finish.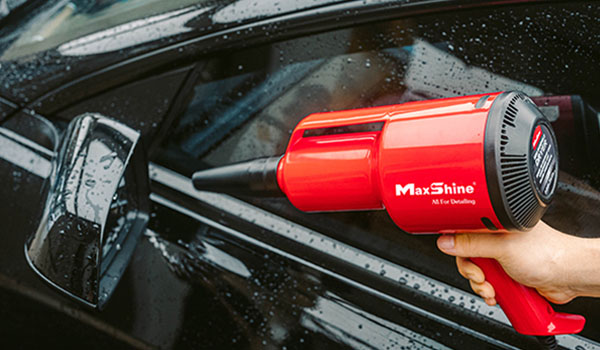 ---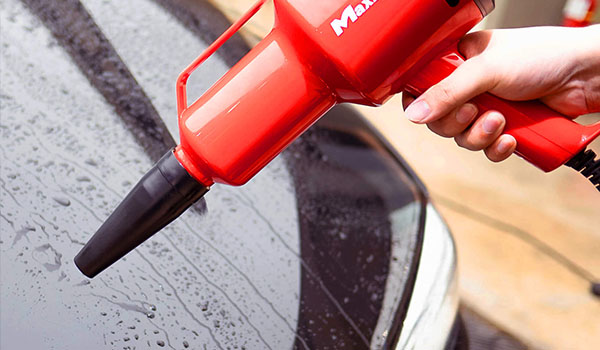 HUMANIZED DESIGN
The EVO-S Car Dryer was specifically designed based on the every day needs of both detailing enthusiasts, as well as, the professional detailer. The long power cord make for a fantastic tool to add to any detailing arsenal. Car dryers are also perfect for protecting paint from added residue like dust and debris. With filtered air, pro blow car dryers can eliminate potential scratches and scuffs. EVO-S is a great investment for car enthusiasts and professional detailers helping to achieve the ultimate clean vehicle. Affordable, lightweight, and cordless, this car dryer blower can be the perfect aid to dry off those errant water beads from your car surface.